亲爱的弟兄姊妹或朋友,平安! 无论您是刚来到Tulsa或者是已经来Tulsa很久了的职业青年,无论您是工程师,会计师或是经理人,我们TCCC职业青年团契都非常欢迎您加入到我们的队伍当中!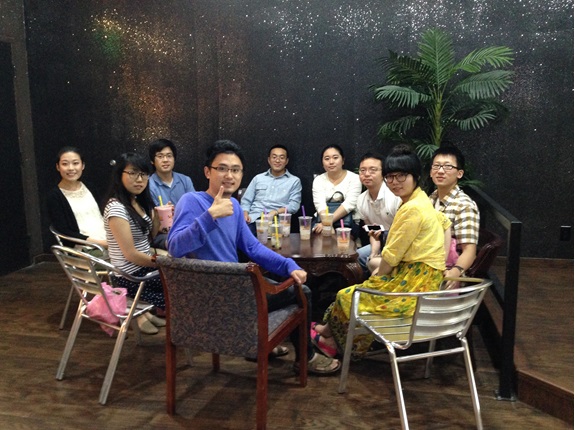 感谢神,在他的恩典下,TCCC职业青年团契在三月初正式成立。职青团契的目标乃是将Tulsa 的职业青年聚集在一起,一起学习和认识神和他的真理,并相互建立美好的关系,在工作和生活上相互帮助和扶持,成为一生靠谱的朋友或主内弟兄姊妹。我们的聚会的具体信息如下:
· 日期:每月第二和第四周六
· 时间:早上10:30 - 12:00,午饭聚餐;若有变动会通知大家
· 地点:任何人开放他/她的居所
· 聚会内容:参考材料和圣经;分享和讨论
· 其他活动:保龄球,外地郊游,饭食,其他
箴言 9:10 : 敬畏耶和华,是智慧的开端。认识至圣者,便是聪明。
联系方式:
徐浩弟兄: (573)-825-5300
陈斯维弟兄: (501)-247-3616
神祝福!
Dear brothers, sisters or friends:
No matter if you are young professionals just wrapped up moving down here to Tulsa or have lived in the town for years, no matter if you are experts in engineering, accounting, or management, we TCCC young professional fellowship, or Yuppie Fellowship, welcome you with our full heart to join us and be around with us!
Praise God that TCCC Yuppie fellowship was established by his grace in early March. Our goal is to gather Tulsa young professionals together to learn God and his words of truth. We also build great relationship with each other such that we help and support each other on life and work issues. Finally, we hope that our relationship will be strong and last for your whole life, even eternally.
Our fellowship information is given as follow:
· Dates: the 2nd and 4th Saturday of each month
· Time: 10:30 a.m. to 12:00 p.m., followed by outing lunch; everyone will be notified w.r.t. any occasional change
· Sites: any apts/houses whoever would like to open
· Contents: spiritual materials and the Bible; open sharing and discussion
· Activities: bowling, short/long trips, food, etc.
Proverb 9:10 :  The fear of the Lord is the beginning of wisdom, and knowledge of the Holy One is understanding.
Contact Information:
Brother Hao (Owen) Xu: (573)-825-5300
Brother Kevin Chen: (501)-247-3616
God bless!